Spicy Salad Mix Microgreens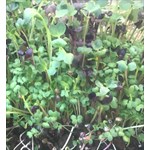 Producer: ...
Category: Fruit & Produce
A blend of daikon radish, china rose radish, red rambo radish, mustard, and arugula. Brassicas, also know as cruciferous vegetables, contain high levels of vitamin C, A, E, K, as well as folate, calcium, iron, B-6, thiamine, potassium and phosphorus. They are a good source of dietary fibre and and those all important cancer-fighting glucosinolates and isothiocyanates.
Tags
Vegan
Vegetarian
Available At These Locations
Purchase
0 % No Food Tax