Purple Mix Microgreens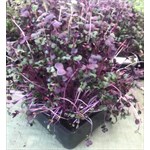 Producer: ...
Category: Fruit & Produce
A blend of red cabbage and red rambo radish. Brassicas, also know as cruciferous vegetables, contain high levels of vitamin C, A, E, K, as well as folate, calcium, iron, B-6, thiamine, potassium and phosphorus. They are a good source of dietary fibre and and those all important cancer-fighting glucosinolates and isothiocyanates.
Tags
Vegan
Vegetarian
Available At These Locations
Purchase
0 % No Food Tax